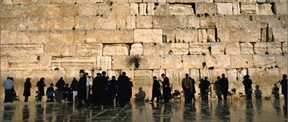 Most people are not aware that the views about "end times" that they have learned from Bible teachers originated with Irishman John Nelson Darby around 1830. No one in the history of the church had ever held to the view that Darby began to propagate, yet his ideas took root in America by 1870 as a result of his seven visits to this country. His novel doctrine was this: God has two purposes in history – an earthly one for Israel and a heavenly one for the church. This system of thought gave rise to the notion that the church had to be "raptured" out of history so that God could resume his earthly purpose for Israel in the "seven-year great tribulation" (cf. Jon Zens, Dispensationalism: An Inquiry Into Its Leading Figures & Features, Presbyterian & Reformed, 1978, 56 PP.)
The Lord teaches, however, that there is only one supreme purpose – God's eternal purpose in Jesus Christ (Eph. 3:11). Jesus Christ, not Israel or anything else, is at the center of creation, history and everything else! It is a trick of the evil one to get people worked up about "the prophetic timetable being fulfilled in Israel." While prophecy books sell like pancakes, Jesus must take a backseat.
So many people have fallen into the trap of measuring what goes on in world history by how earthly Israel is treated. One Bible teacher in March, 2008, made this remark: "I started to get really strongly to preach about Israel, about the pact.  Also, this would probably be the perfect timing to explain why Argentina is under such a curse and that they need to ask Israel for forgiveness on behalf of Argentina."
Israel is not the benchmark for God's judgments. Argentina needs to ask Jesus for forgiveness. Argentina does not need to ask Israel for forgiveness!  Psalm 2 says, "Kiss the Son," not "kiss Israel."  No nation is cursed in relationship to physical Israel; they are condemned for not following the Son of God.
Another person connected Japan's recent calamitous misfortunes to their failure to support Israel: "…if we take God's jealousy about Israel his love seriously, Japan is in trouble: Japan does not recognize any unilateral measures that prejudge the final resolution on pre-1967 borders, nor does Japan recognize the annexation of East Jerusalem by Israel, and is constantly bickering about various decisions of the Israeli government, a situation that God does not take lightly" (Wolfgang Simson, March 24, 2011, email).
When the Lord said to Abraham, "those who bless you will be blessed, and those who curse you will be cursed," this was not a mandate for the nation of Israel to be the yardstick of whether or not a nation will prosper or disintegrate. The promise, "in you all nations will be blessed," was fulfilled by Jesus – the "seed" of Abraham (Gal. 3:8, 16). The Son guides and directs all things with reference to his ekklesia, the apple of his eye on earth, not out of consideration for a piece of geography in Palestine (Eph. 1:22, 23).
The point is, right now the people in Israel for the most part are not submitting to Christ's righteousness — so it is way out of line to view them as they currently exist to be "God's chosen people," as if they can do no wrong (as John Hagee teaches).  The only "chosen nation" right now is the "royal priesthood" of believers all over the world.
The primary person in all issues is Jesus. The Book of Revelation is a "revelation of Jesus Christ" – it's not about Israel or anybody's pet views about end times. Back in 1980 Adrio Koenig wrote The Eclipse of Christ in Eschatology, and he showed how every major view of "last times" ends up pushing Jesus to the periphery. Also in 1980 Charles Feinberg wrote Israel: At the Center of History & Revelation. His view relegates Jesus to backstage and places an earthly nation on front stage. Again, Psalm 2 says, "Kiss the Son" – not kiss Israel, or America, or any nation.
Those who embrace an Israel-centered theology basically see the Old Testament as relevant to God's alleged earthly purpose with Israel. However, Jesus emphatically affirmed that the Old Testament was about him. "Moses wrote of Me." "And beginning with Moses and with all the prophets, he explained to them the things concerning himself in all the Scriptures."  In light of the fact that the Old Testament is Christ-centered, we should note that certain common evangelical approaches to the O.T are skewed and misleading:
The O.T. Is not Israel-centered.  Contrary to this, many since 1830 have seen the Old Testament as primarily focusing on the future restoration of national Israel after the church is raptured.
The O.T. Is not commandment-centered.   The foundation of the Old Covenant was "do this and live."  The focus was on obedience to some 613 commandments.  This is how the Scribes and Pharisees saw the Old Covenant writings — as statutes and decrees.  Today, there are those who view Moses' writings as the law-book for magistrates and suggest that homosexuals, and others, should be stoned.  Such views miss the clear words of Jesus which transformed the O.T. into a collection of books about a Messiah to be loved, not precepts to be kept.
The O.T is not principle-centered.  Many people see the O.T as a well from which to draw good principles to live a godly life.  They tend to use the Old Testament moralistically instead of in a Christ-centered manner.
Most theological errors flow out of a misuse of the Old Testament and a wrong understanding of Israel's place in the history of redemption. Jesus Christ is at the center of Scripture and history. Jesus is the heart of God's purpose. The only "chosen, holy nation" on earth now is the ekklesia of Christ. When Paul addressed the predominantly Gentile Galatian ekklesia, he called them "the Israel of God" (Gal. 6:16). Jesus Christ is the benchmark, the yardstick, and the standard of everything – "of him, and to him and for him are all things." If believers were captured by the love of Christ and God's eternal purpose in the Son, all the prophecy books would remain on the shelves collecting dust as they should.
By Jon Zens