I am amazed by all the resources available to the twenty-first century reader. Some I find "accidentally" in the course of internet searches, while others are sent to me. Below I've written a synopsis of some I'd recommend. If any strike a chord, pursue them!
THE POWER OF WEAKNESS, Keith Giles, 2012, 96 pages.
I've read this book twice. It is a needed salve in the strength-driven, celebrity-based religious culture that surrounds us. Keith emphasizes that the Gospel is not about "going to heaven," but living out Christ's life now in His kingdom. "Weakness" is not a topic that makes for a best-seller, but Keith points out that it is a central reality in Christ's life, in Paul's example and in the lives of those in the past, like Moses and Gideon. May your heart be blessed by Keith's writings.
Keith Giles
The Power of Weakness [Kindle Edition]
PROPHETIC CRACK: Pushers in the Pulpits, Addicts in the Pews, Julia M. McMillan, Thorncrown Publishing, 2010, 186 pages.
This is an important book for our day. Julia forthrightly deals with some serious issues in the realm of spiritual abuse, noting that "to deliberately mislead or misguide the minds of the vulnerable has to be among the most detestable of sins."
In the Foreword, Claudette Anderson Copeland readily confesses what is the experience of many: "We just know there is something chronically, excruciatingly wrong in the way we experience our connections within the church."
Prophetic Crack looks at the various angles of what happens in churches when we "wed the social, emotional and ultimately spiritual cravings (users) to persons bound by the lust for power and control that is resident in the souls of gifted leaders (pushers)" – you end up with an addictive organization (Copeland).
Tragically, as Copeland points out, "for a startling number of folks in this present generation, church has become a downright dangerous place to be." Julia does a superb job of isolating the characteristics of unsafe religious settings. Hopefully, many hearts will be alerted as a result of her experiences, reflections and counsel.
Given the generally excellent content of this book, I was saddened that Julia embraces a widely held perspective that is a huge contributor to the very church abuse she's seen devastate untold people. She states unequivocally:
There is one primary voice in leadership. Where there is a pastor, that should be the only decisive voice that we hear. He is charged with soul care and is the ultimate voice the congregants expect to hear, especially regarding matters of vision and direction for the church (p. 105).
One could rightfully ask, "Where in the NT would this pastor centrality be found?" Julia encourages us to be informed by "the Word of God" (p. 112), but her sentiments about the pastor being "the one decisive voice we hear" falls in the category of errant human traditions.
This flaw aside, I would encourage you and your friends who have been wounded by spiritual abuse to read Prophetic Crack.
PROPHETIC CRACK: Pushers in the Pulpits, Addicts in the Pews
WORTHLESS PEOPLE, Skeeter Wilson, Lens&Pens Publishing, 2013 (2nd edition), 156 pages.
Skeeter Wilson, the son of American missionaries, was born in British Colonial East Africa, along the edge of the Gikuyu lands at the conclusion of the Mau Mau war. He watched the birthpangs of Kenya as it became an independent nation.
I've known Skeeter since 1979, a few years after he came at the age of 19 to America. When we saw him in April, 2012, he gave us a copy of Worthless People. Dotty and I read it together. We loved it and read it again. It is a fascinating read, evoking both tears and laughter. What makes this book so powerful is the fact that what is written is born out of incredible life experiences.
He has another book coming out in the next few months, Crossing Rivers. It is about an African woman who does what is culturally taboo – after being abused by her husband, she leaves the tribe that adopted her, and returns to her birth tribe. We have only read chapter one, but the story line looks to be captivating, and there will be sequels.
worthless people by Skeeter Wilson
NEW CREATION PRAYER, Steve Crosby/Don Atkin, 2012, 28 pages.
A lot of material comes across my desk. I can't read everything, and a lot of what I do read is not all that great. New Creation Prayer was different. Very different. It is one of the most refreshing presentations I have read in a long time. This will be a healing balm and a strong cup of coffee for many quarters in evangelicalism. I have many friends who will be deeply enriched by reading this booklet. I love Steve's emphasis on Jesus being in the presence of God for us. As a result, we do not have to get His attention with our prayers – He is already with us and for us!
New Creation Prayer
SUNDAY MORNING STICKUP: What Your Pastor Doesn't Want You to Know About Tithes, David Lee, Outskirts Press, 2013, 153 pages.
The author spent 20 years working side-by-side with mega-church preacher T.D. Jakes. David began to question the ethics behind tithing, which led him to write Sunday Morning Stickup; as a result, he was eventually excommunicated from his church.
Think about it. When you boil "church" down to its basics, it is not going too far to assert that tithing is the key pillar of religious machinery. Leaders fear that were tithing were taken out of the equation, they wouldn't be able to pay the bills and the salaries. Why should we be surprised, then, that church leaders go ballistic when tithing is questioned?
Sunday Morning Stickup does an excellent job of showing what tithing was all about in Israel's economy; that in the Mosaic law tithing was not about giving money and was designed to help the needy. David Lee points out that Christ fulfills the tithe, that God is not after our money, but desires 100% of us as living sacrifices.
The author's conviction is that "we are not in need of a revival in our churches; we are in desperate need of a funeral. The call goes out to bury many of the practices which have a purely business focus in our churches today."
In the Summer 1979 issue of Searching Together, I wrote an extensive article entitled "Each According to His Ability: Principles of New Covenant Giving," which was an eye-opener for many. Then in our 21-page Winter 1987 issue, the theme was "Perspectives on New Covenant Giving." Under the heading "How Shall We Then Give?" Tom Atkinson penned three superb articles in the 61-page 2006 Searching Together. (These are available from ST for $4/each postpaid.)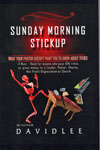 SUNDAY MORNING STICKUP: What Your Pastor Doesn't Want You to Know About Tithes
THE NEW COVENANT: The Dramatic Story Behind the Faith Once Delivered to the Saints, Bob Emery, BenchPress, 2012, 421 pages.
This is a wonderful book. Because of the mileage it covers, some might find it to be the kind of volume to read through slowly in solitude.
The content of The New Covenant is presented in three parts with the Apostle John as narrator. In the first segment (pp. 9-119), "The Messenger," Paul brings Titus to John and leaves him for a season. In their time together, John vividly recounts the story of Jesus' death, burial and resurrection, beginning in the Garden of Gethsemane.
Part two (pp. 131-270), "The Message," has John telling the saga of how the New Covenant writings came into existence. To me, this section seems to be oversimplified, but nevertheless many important insights into life in the early church are unfolded.
Part three (pp. 275-378), "The Marriage," deals with the main themes in John's Revelation in short chapters. This is hands down the best treatment of Revelation I've ever seen. More heat than light has resulted from most discussions of Revelation. However, "The Marriage" brings light to this difficult book because it is Christ-centered and brings often missed understanding because Revelation is interpreted in its first century context.
A must read is the uplifting appendix on "The Lord's Supper: The Celebration of the New Covenant."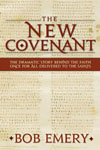 The New Covenant, by Mr. Bob Emery
(1) COMMUNICATING LOVE; (2) WITHIN THE WALLS; (3) BREAKING THE SILENCE, Stephanie Bennett
Stephanie spoke at our Searching Together Gathering several years ago and some of her writings will be featured in the next Searching Together, Vol. 39:3-4.
(1) Communicating Love provides perspective and insight that will be singularly helpful to those who wish to improve relationships by sharpening their communication skills.
The realm of communication does not lend itself to simplistic formulas and easy-to-follow steps. No wonder, for each setting where communication occurs involves the many intangibles connected to the personalities and circumstances. Stephanie knows this and does a beautiful job of speaking generally enough to allow for plenty of flexibility, yet specifically enough that her readers can relate what is said to their peculiar setting.
A great deal of time is spent in our lives pursuing or avoiding communication. If we truly love other people, then we must grow in our ability to listen to others, to explore the thoughts of others and to value the concerns of others. This book will go a long way in stimulating and facilitating such important growth in our personal lives.
We live in a culture where the tentacles of technology are entangling themselves in our relationships, often negatively. Stephanie points the way for deeper and more meaningful relationships in a media-saturated society!
(2) Within the Walls is the first part of a trilogy. In it, Stephanie brings her background in culture and communication together to give us a fascinating tale that brings out the effects of advanced technology on human existence. This story begs for more — and sequels are sure to follow!
(3) Breaking the Silence. As technology spreads its tentacles more and more in our culture, the expression of authentic humanness becomes challenged in untold ways. As Henri Nouwen astutely noted, "our technocratic society has succeeded in killing the natural spontaneous curiosity of people, and dulled the human desire to know." In Breaking the Silence, part two of an unfolding trilogy, Stephanie Bennett masterfully addresses the tension between an increasingly depersonalized society and the human hunger for belonging. This is an engaging story that wrestles with far-reaching issues staring us in the face right now, and offers hope in the midst of crises that threaten the fundamentals of human existence itself.
Communicating Love [Kindle Edition]
Within the Walls (Within the Walls trilogy) [Kindle Edition]
Breaking the Silence (Within the Walls trilogy) [Kindle Edition]
CHURCH OUTSIDE THE WALLS: A Four Part [DVD] Documentary Exploring Church Life Outside of Organized Religion, produced by David Fredrickson
David was my roommate at a gathering in October 2013 north of Charlotte, NC. I had met him briefly before, but it was a privilege to get to know more of his heart.
These DVDs are excellent for both individual reflection and group study. The first part deals with "The Dropouts." Parts 2 and 3 review history and tradition in "Today's Church: How Did It Get This Way?" Part 4 focuses on "Where Do We Go from Here?"
David also has a book available, When Church Leaves the Building.
CHURCH OUTSIDE THE WALLS
WHAT'S WRONG WITH PROTESTANT THEOLOGY? Tradition Vs. Biblical Emphasis, Jon Mark Ruthven, Word & Spirit Press, 2013, 303 pages.
The author's basic thesis is that since 1500 traditional Protestant theology has downplayed and marginalized the ministry of the Holy Spirit. As Steven Fanning pointed out in Mystics of Christian Tradition (2001), the same could be said about the developing Roman Catholic Church from AD 250 onwards. As overt institutionalism increased, dependence on the Spirit decreased. Of course, the notion that certain Spirit-gifts ceased after the closing of the canon contributed to the neglect of the Spirit.
Jon traces the impetus for this book all the way back to when he taught in a seminary and came to have "the growing, sick feeling that something was terribly wrong with this educational system and with what I was trying to do as a theology professor." After years of involvement, Ruthven's conclusion is that "to put it rather impolitely, to teach God's message of the Bible in a traditional educational format is like trying to teach sexual purity in a brothel."
What's Wrong? is a fascinating read. Jon wrestles through some difficult issues and is fair to those with whom he differs. I am in deep sympathy with his essential concerns, though I would have a different take on some matters.
What's Wrong with Protestant Theology? Tradition vs. Biblical Emphasis
CHRIST IS ALL: No Sanctification by the Law; THE PASTOR: Does He Exist?; THE PRIESTHOOD OF ALL BELIEVERS: Slogan or Substance?; FOUR 'ANTINOMIANS' TRIED & VINDICATED; David H.J. Gay
I had the privilege of meeting David Gay in August, 2013, at the 14th Searching Together Conference in Elgin IL. His sessions on 2 Cor 3 & 4 were uplifting! I have perused several of his previous books — The Priesthood of All Believers: Slogan or Substance, The Pastor –Does He Exist? and Christ Is All: No Sanctification by the Law — with great profit.
The Pastor – Does He Exist? has some amazing appendices (David calls them "Extracts") in which he has collected quotations regarding his main points. His compilation of statements by the "Church Fathers" on church hierarchy is priceless.
"Four Antinomians," though an historical study, nevertheless affords the opportunity to focus on some very important issues — Has Christ actually removed forever all condemnation for those in Christ? Must sinners be "prepared" for the gospel by Law-preaching?
Of the "Four," I'm most familiar with Tobias Crisp. After I wrote what many called groundbreaking articles in 1977-1978 ("Is There A 'Covenant of Grace?" and "Crucial Thoughts on Law in the New Covenant"), several well-known Reformed Baptists (Walt Chantry and Al Martin) called me an "antinomian." In 1978, Walt Chantry wrote me a long letter and designated me as "neo-dispensational" and "neo-antinomian." I spent hours in the Vanderbilt Divinity Library in Nashville researching Antinomianism in history, focusing on Tobias Crisp. I concluded then, as David Gay has now, that calling Crisp "antinomian" was a false accusation. I sent a detailed reply to Walt which suggested that the appellation of "antinomian" was inappropriate for Crisp and for me.
David Gay has done us a tremendous service by documenting the freeness of grace in Christ as proclaimed by these four often maligned men. What I especially appreciate about David's presentation is his evenhandedness. He clearly unfolds where he agrees with these four, where he disagrees with them, and where he believes them to have been unwise in the way they expressed certain sentiments.
I highly recommend David's books. They shed important light on vital issues that have come to the top in church history.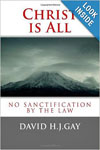 CHRIST IS ALL: No Sanctification by the Law
THE PASTOR: Does He Exist?
THE PRIESTHOOD OF ALL BELIEVERS: Slogan or Substance?
FOUR 'ANTINOMIANS' TRIED & VINDICATED
Dangerous Memories: House Churches & Our American Experience, Bernard Lee & Michael Cowan, 1986, Sheed & Ward.
Reviewed by Christian Smith:
There must be something going on out there in the church, for here we have yet another great new book on home churches. Indeed, the authors claim that a movement with "earthquake potential" has been rumbling in the Roman Catholic church for a generation now. That movement is the regathering of believers as genuine church in the home.
In this book they examine this house church movement – primarily from a Roman Catholic perspective – in light of scripture, history, psychology and sociology. Some of the topics covered in the book include an international overview of the intentional community movement, community and American culture, mutuality in relationships, the political implications of community, and servant leadership. Each chapter ends with a helpful list of additional resources. The social science slant of the analysis is very valuable.
The greatest strength of this book, though, is its exploration of community in the context of American culture. The authors note that American culture evokes a hunger for community, yet simultaneously militates strongly against it. Drawing on Robert Bellah's Habits of the Heart, they explore the possibilities of redeeming American individualism by transforming it into a radically relational form.
This book is especially appropriate for Roman Catholics. However, the house church movement transcends all traditions and denominations. Anyone interested in the subject, then, should add this book to their library. – Christian Smith, Voices in the Wilderness, July/August, 1987, pp. 26-27.
THINKING NAUGHTY THOUGHTS On Church, and Why I Think We Need to Change, Johan Van Der Merwe, 2013, 321 pages.
This book is written by a gracious, open-minded brother in South Africa who asks a lot of great questions. His own words get to the point: "In Thinking Naughty Thoughts I critically examine certain church practices and traditions. If you have ever found yourself asking tough questions regarding the run of the mill practices of a typical evangelical church, whether secretly or in the open, this book may help you give words and direction to your thoughts."
Thinking Naughty Thoughts: On church, and why I think we need to change
THE GOSPEL ACCORDING TO WAFFLE HOUSE, Ronnie McBrayer, Match Point, 2013, 106 pages.
"We don't need more of the church; at least not more of the church as we have previously known it. We don't need more straight-laced, behavior-management obsessed, bottom-line focused, boundary-drawing corporations calling themselves the Body of Christ. No, we need this thing we call church to look more like a local diner – more like a neighborhood bar – more like a Waffle House restaurant – then, people might feel welcomed at 'church' once again." – Ronnie McBrayer
From the blurb about the book: In The Gospel According to Waffle House, Ronnie McBrayer employs his years of experience to challenge people of faith to rethink how they "do church." He proposes a modest, commonsense vision that would reshape Christian congregations into welcoming places for all people, places that would preach and practice simplicity, and places that would operate with grace and flexibility. This is essential reading for those who wish to do "simple church" in a time when Christianity is increasingly fragmented and complicated. If you have been looking for a back-to-the-basics model for your church, then the table is spread in The Gospel According to Waffle House.
The Gospel According to Waffle House
QUIVERFULL: Inside the Christian Patriarchy Movement, Kathryn Joyce, Beacon Press, 2010, 272 pages; QUIVERING DAUGHTERS: Hope & Healing for the Daughters of Patriarchy, Darklight Press, 2010, 231 pages; PATRIARCHY & ACCUMULATION ON A WORLD SCALE: Women in the International Division of Labor, Zed Books, 1998, 251 pages; NO WILL OF MY OWN: How Patriarchy Smothers Female Dignity & Personhood, Jon Zens, Ekklesia Press, 2011, 74 pages.
The Christian Patriarchy Movement in some ways can be considered "fringe" in the home schooling movement, but its literature and products fill the tables of local, regional and national home schooling conferences. One of their tenants is "militant fecundity" – have as many kids as you can.
Some of the main voices in this movement would include Voddie Baucham, Tim and David Bayly, Jeff Botkin, Scott Brown, Matthew Chapman, Bill Gothard, Greg Harris, James and Stacy McDonald, Michael and Debi Pearl, Doug Phillips, R.C. Sproul, Jr., Kevin Swanson, and Doug Wilson.
Here are some resources you can investigate for further information.
The True Story of the Damaged Daughters of Patriarchy – a memoir
Articles by Tim Swanson:
Douglas Phillips' Affair, and Why I Believe the Details Matter
Patriarchy, Christian Reconstructionsim, and White Supremacy
Articles by Karen Campbell:
Thinking thoughtfully about Doug Phillips' resignation, part four ~ danger markers along the patriarchy path
Thinking thoughtfully about Doug Phillips' resignation, part two ~ how the patriocentrists raise daughters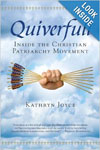 QUIVERFULL: Inside the Christian Patriarchy Movement
QUIVERING DAUGHTERS: Hope & Healing for the Daughters of Patriarchy
PATRIARCHY & ACCUMULATION ON A WORLD SCALE: Women in the International Division of Labor
NO WILL OF MY OWN: How Patriarchy Smothers Female Dignity & Personhood
LETTER FROM A PRESBYTERIAN PASTOR IN BLOOMINGTON, IN
IN RESPONSE TO WHAT'S WITH PAUL & WOMEN?
February 4, 2011
Dear Mr. Zens,
Thank you for sending my brother, David, and me your book, "What's With Paul & Women?" Sadly, what you've written is an attack upon God's order of creation and all the texts of Scripture that apply that precious order to the church and Christian family life.
Be of good cheer, though: the world is panting for your rebellion and will give you its cheap applause.
What will you do in the end, though, when you face Almighty God? Will you tell Him the people were demanding an idol?
I recommend you pull the book from circulation and repent, as I did, for this rebellion.
In Christ's love, Tim Bayly
WAKE UP, LAZARUS! Paths to Catholic Renewal, Vol. II, Pierre Hegy, iUniverse LLC, 2013, 418 pages.
Based on extensive travels among grassroots Catholicism, Pierre has produced a well-researched and thought provoking analysis of a system, its challenges and some key suggestions for renewal.
It amazes me that persons entrenched in the inner workings of an institution can entertain the notion that its fundamental ways of doing things will change. The author's "proposals for renewal," I would suggest, are in actuality Band-Aids placed on a deep festering wound. Pierre believes that the system is sound; it just needs some tweaking. Could the truth be that as long as institutions like Catholicism and Protestantism stand, Christ's life will be impeded?
What follows is my 2008 review of William Bausch's Parish of the Next Millennium. It reflects the essence of the response I would offer to Wake Up, Lazarus!
Wake Up, Lazarus!
Written in 1997 in anticipation of church life in post-2000, this book — written from a Roman Catholic perspective — honestly faces some of the struggles that will challenge the church's existence in the future. I think the author is way too optimistic, as I don't think he reckons with the inflexibility of ecclesiastical hierarchies.
Within the ranks of Catholicism, Bausch notes that commitment is down, giving is deplorable, the ranks of the priesthood are declining and he asks, "How long can we call ourselves a eucharistic church when 70% of our people do not celebrate it?" (p.50)
"Going to church" has become irrelevant for much of Western culture. The monstrous and expensive buildings have become an unbelievable burden. "All over Europe churches are becoming shops, restaurants, and mosques. As attendance declines and numbers dwindle, what do you do with the large cavernous churches, chapels, and monasteries that require small fortunes to keep up?" (p.62).
Bausch sees the following significant changes for parish life in the 21st century (I've put some of these points in my own words):
**More "lay" involvement
**More emphasis on the giftedness of all than on the "ordination" of the few
**More emphasis on human relationships than on maintenance of the institution
**More emphasis on koinonia fellowship than on top-down hierarchy
**More emphasis on the practice of wisdom than on the mere acquisition of knowledge
**More emphasis on spiritual formation and less on implementing programs
**More emphasis on creative worship and less on repetitive ritual acts
**More servant leadership
**More emphasis on weakness instead of on power
**More intergenerational education and not just a focus on education for children
**More collegiality and less top-down management. "There is no doubt in my mind that any kind of authoritarianism will be out (or at least minimalized) in the next millennium." (p.249)
**More participation and involvement of women
These are noble goals, and if taken seriously would result in noticeable renewal. However, there remains an unresolved and insurmountable bottleneck in Bausch's wonderful proposals: the Roman Catholic hierarchy, resting on the clergy/laity distinction, is a non-negotiable. In Catholicism (and much of Protestantism), you simply can't do church "without benefit of clergy" (p.39). "Everyone knows that ultimately certain people, by virtue of their superior office or position, will alone and unilaterally have to make a decision. That's what hierarchy is all about" (p.114). The tragic reality is that the gifts and the full expression of Christ through everyone must be sacrificed in order to maintain the institution.
We would do well to heed another voice in Catholicism who was, unfortunately, rejected by the powers at the top. Herbert Haag in Upstairs, Downstairs: Did Jesus Want a Two-Class Church? (1997) advocated the full priesthood of all believers and suggested that any male or female could be commissioned to "conduct the eucharist" (p.110).
— Jon Zens, December, 2013